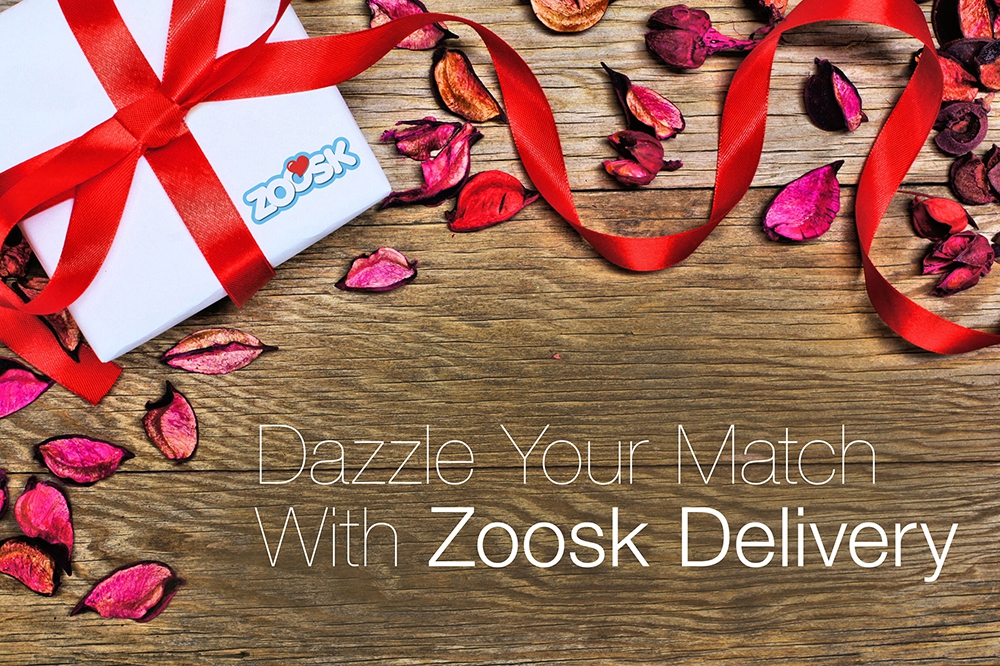 Many online dating websites are chock full of fun and innovative features which allow you to find, flirt, chat and connect with other singles. However, one of the downsides of having so many different ways to communicate is that it becomes incredibly easy to get wrapped up in the online portion of dating and forget about what's really important: making real life connections. When it comes to online dating, many singles find it challenging to translate online chemistry into real life interactions. I can't count how many times I've heard things like, "We just talk online. How do I take it to the next level?",  "I've been chatting with this girl. How do I show her that I'm serious about getting to know her?" or "online dating just seems so impersonal." So, the question is, how do you add a bit of real-life romance into the online dating equation to help people better connect?
Zoosk, the popular online dating website recently came up with a solution to make online dating easier and more fun for everyone involved. This past May, Zoosk launched "Zoosk Delivery" – a new website feature that helps bridge the online and "real life" worlds by allowing singles to ship romantic gifts to their matches. The gifts are a way for Zoosk members to engage with potential matches in a new and memorable way. Current available gifts include flowers, chocolates, and teddy bears, allowing online daters to indicate strong interest in potential matches in a way that isn't typical to online dating.
To send the object of your affection a gift, Zoosk members visit the eligible member's profile and select the "ship a gift" button. The gift recipient then receives an email from Zoosk alerting them that a fellow Zoosk member would like to send him or her a gift. At this point they can either accept the gift by providing a shipping address, or decline to provide an address (essentially, leaving control in the hands of the potential giftee.)
As Shayan Zadeh, Co-Founder and CEO of Zoosk, says, "When we created Zoosk, we set out to provide a service that helps single adults make real-world connections and build lasting relationships." When it comes to Zoosk Delivery, Zadeh explains, "Testing new ideas is part of Zoosk's DNA and this particular feature allows singles to catch the attention of someone they find special."
If you're currently scratching your head and thinking, "Isn't it a bit weird, sending gifts to a total stranger?" bear with me for a few minutes. I was skeptical at first (after all, the last thing I want is a bunch of teddy bears arriving on my doorstep from total randos.) However, the more I learned about Zoosk delivery, I realized it actually has way more advantages than drawbacks.
Here's a few reasons why Zoosk Delivery actually makes dating easier.
1. It's perfect if you're in a long distance relationship – With the dawn of online dating, we're no longer restricted to dating within our own immediate social circle, city or even country. Online dating literally opens us up to a world of possibilities. Because of this, every day people meet and fall in love from across time zones. If you find yourself in a long distance relationship, Zoosk Delivery is there as your personal wingman/wingwoman. One of the things that people in online relationships often miss is that "personal touch" that comes from being in the same area code. If you're still waiting to meet your online love, with Zoosk delivery you can send them some flowers to let them know that you're looking forward to going on an actual date with them in the future; or you can send them some chocolates to let them know that you're "sweet" on them. Either way, Zoosk delivery allows you to express your interest from a distance in a fun and romantic way.
2. It can break the ice – Sending a gift to someone you've never met is always a bit of a risk. However, if you're serious about breaking the ice before you meet in person, Zoosk Delivery provides you with a unique and memorable way to say "hey, I'm excited about our date!" Want to see her smiling when she sees you for the first time? Send her flowers! (Just saying.)
3. It allows you to do something nice for someone –  safely – One of the nice things about Zoosk Delivery is that it allows you to make a romantic gesture or be the recipient of a romantic gesture, without crossing any personal boundaries. You can send and receive gifts via Zoosk Delivery without making your address public. In a day and age where safety is on everyone's minds, this feature adds an element of comfort to the online dating process. Plus, as I mentioned before, the giftee always has the choice to decline a gift if they do not feel comfortable accepting it.
4. It's a great way to follow up after a really great date – First dates are very much like job interviews. After a job interview, most people will follow up with a phone call or a thoughtful message. The same logic applies to dating. It's always good to follow up – even if it's just sending a text letting the other person know that you enjoyed meeting them. However, if you're really digging the other person, Zoosk Delivery provides the option to take the post-date follow up to the next level.
5. It shows that you mean business – I don't know about the rest of you ladies, but if I went out on a date with someone I liked and they followed up the next day with flowers (or another suitable gift. I'm a flowers girl, myself) I'd be impressed – very, very impressed. Agreeing to a second date would likely be a no brainer. Zoosk Delivery allows you to show that you really mean business in the romance department – something that is sorely missing in the dating sphere. By using the Zoosk Delivery option you not only help make a unique connection with someone, it sets you apart from the pack – simple as that. (Just don't, whatever you do, send me a teddy bear.)