Elitemate.com Review
EliteMate strives to get rid of common dating problems such as blind dates that go nowhere, rejection from your object of affection and wasting time and money on the wrong person. With exclusive online dating features like your own relationship coach, this matchmaking site gives you the right dating tools so you can find your ideal match. Users are greeted with a collage of happy couples that are in different kinds of relationships from casual hookups to lasting ones. Whether you are searching for new friendships, one night-stands, casual dating or a long-term relationship, chances are you will find it among the millions of EliteMate members.
How it works

One of the cool features on EliteMate is the ability to activate an astrology profile. You will get an idea of how compatible you and another user are by comparing astrological information like birthdates, time of births and place of births. You can also view a bar graph comparing different elements like finances, communication styles, sex, home life and career support.
Afterwards, you have the option to co-register on several other premium Elite dating sites like Elite Golf Daters, Elite Connects and Elite Booty Bang. EliteMate stores your information and, with your approval, will submit it to any of the sites that you would like to join so that you don't have to go through any more registration forms.
Once you go through numerous dating site ads and product ads and select whether you have any interest in that particular service, you move on to the next EliteMate matchmaking feature called the Personality Questionnaire. You will be shown a lengthy list of different personality traits such as "humble, responsible, sexual, kinky, imaginative and spiritual. For each trait, you will have to select how much that attribute reflects your personality on a scale of 1 to 5. You will also have to select how important that trait is to you in an ideal match on a scale of 1 to 5. Finish your profile by uploading a couple of photos so others can see the real you.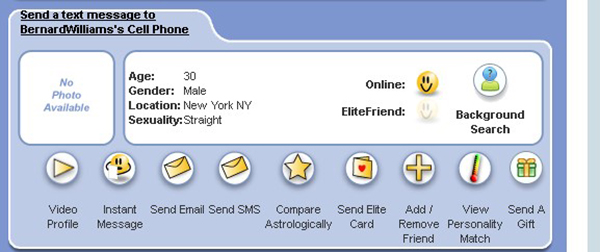 If you want to check out other EliteMate members, you can do a basic search by selecting the age range of your ideal match along with the state that you want to search. Or you can run a more advanced search by selecting your ideal match search criteria like their hair color, eye color, body type, smoking and drinking preferences and relationship status. You can search through a database of national members or extend your search to include international members.
If you upgrade your membership, you can send anonymous texts to users through the EliteMate servers so your cell number remains private. Or you could introduce yourself through an email or an instant message. Elite Mate gives you your own personal email so you don't have to use your real email to communicate with users. Another feature that differentiates EliteMate is the ability to send e-cards to users. Sending a user a romantic or flirtatious brightly colored e-card can help break the ice and put a smile on their face.
Cost
The first log-in to EliteMate after registration allows you to have full membership privileges as long as you are logged in. When you purchase an upgraded membership, you will be assigned a relationship coach that can answer your dating questions. He or she will look over your profile and offer tips and suggestions that will increase your chances of finding the right person for you. Along with a relationship coach, you will receive an IP dialer that will allow you to make unlimited long distance calls. You will also receive a set of helpful tips that can help you have a happy and healthy relationship. The EliteMate staff will continue to guide you until you find your ideal mate.
| | | | | |
| --- | --- | --- | --- | --- |
| Length | 12 Months | 6 Months | 3 Months | 1 Months |
| Cost | $79.99/mo | $44.99/mo | $24.99/mo | $9.99/mo |
The Good…
A relationship coach that can help answer any dating question you may have
Unrestricted membership on first log in
The Bad…
Users have to go through long lists of product ads and services before they can move on to complete new sections in their profile
The Ugly…
There are too many ads covering each page that are annoying and distracting