PlentyOfFish.com Review
Online dating has been around for more than a decade, and PlentyOfFish (pof.com) has been around for it all! As one of the largest online dating sites in the world, PlentyOfFish now boasts more than 80 million registered users worldwide. What allows PlentyOfFish to standout in sea of other competitors is that there is no cost to use the site. PlentyOfFish has also built one of the most sophisticated matching algorithms in the industry which has resulted in 1 million relationships being created every year. With an impressive number of registered users, PlentyOfFish offers a promising landscape for those looking to date, or find a lasting relationship in the proverbial dating "ocean."
How it works
Creating an account on PlentyOfFish only takes 5-10 minutes. Before you know it you'll be chatting with potential matches. After you create your account, you'll be directed to fill out your profile description and your ideal first date and upload photos of yourself. The PlentyOfFish matching algorithm uses your profile information to determine which users on the site you are most likely to be compatible with.
Signing up to PlentyOfFish only takes 5-10 minutes and before you know it you'll be chatting with potential matches. All basic features necessary to search for a prospective date and communicate are free on PlentyOfFish. Users can message others for free by clicking the Send Message button on a user's profile. Unlike paid dating sites, PlentyOfFish allows you to message anyone on the site. Paid dating sites only allow you to message and reply to other paying users which can limit your selection and potential for meeting someone.
Immediately after creating your account you'll receive a welcome email from the site's CEO, Markus Frind. This message explains what to expect from the site and how to thrive on PlentyOfFish and hopefully find that special someone.
There are several features on the site that can help you meet someone:
Advanced Search
The PlentyOfFish Advanced Search feature allows you to search for users based on general criteria such as height, education, age and location. It also allows you to search for men based on more specialized characteristics that are extremely important in any happy relationship like self-confidence, openness, and tolerance of diversity.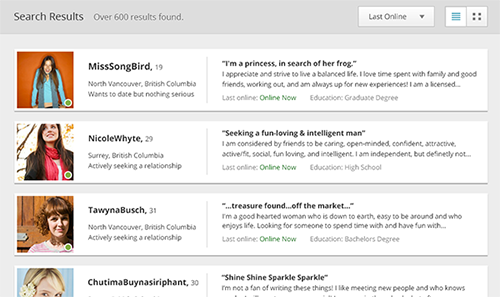 Top Prospects
Your top prospects are a list of users you are highly compatible with who have already contacted you in the past. According to PlentyOfFish, if you do find a relationship, there's a high likelihood the person will be on this list. Second chances might just pay off this time.
Ultra Match
The users under Ultra Match are the best 70 matches for you on PlentyOfFish. This list also considers users who have recently been online.
Meet Me
Meet Me is an easy way to meet new people and one of the site's most heavily trafficked features. The feature allows you to swipe through users' photos and indicate whether you'd like to meet them or not.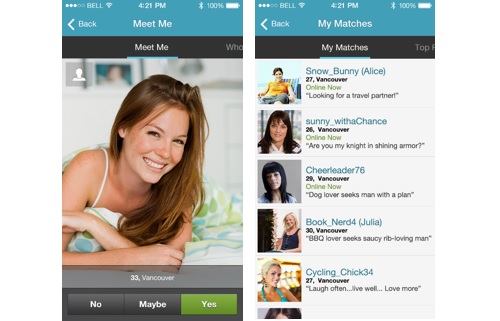 Chemistry Test
If you're looking for additional information about potential matches, PlentyOfFish offers free personality assessments, one of which is called the "Chemistry Test." In this 73-question assessment, questions focus on personality traits and social interactions, and the results are immediately rewarded with a thorough profile on the test-takers emotional outlook as well as the kinds of people that might compliment these results.
Membership
PlentyOfFish is free and all-inclusive. Free members are able to send and receive messages, search, and see who viewed their profile. PlentyOfFish offers an Upgraded Membership to those who would like to highlight their profile or see who read their messages, The Upgraded Membership is available at a monthly rate and gives you a lot of valuable perks:
Upload 16 images to your profile
Unlock every user's Extended Profile
See if your emails were read or deleted
Show up first on Meet Me!
Experience POF ad-free!
Find out the date and time someone viewed your profile
See who viewed your profile and you voted yes/maybe on
Send three gifts per day
Stand out in all searches
See who wants to meet you
Overview
A large, active user base which gives users ample selection of matches
100% free to communicate with other users
One of the most advanced matching algorithms in the industry
The site works - 1 million relationships are created every year!
Daily matches sent to your inbox
Access via the web, iphone, android and ipad apps
The Good…
All necessary means of communication are free.
Best selection of potential matches.
The Bad…
There's so much selection that sometimes it can be overwhelming.
User Reviews
Not all submitted reviews are posted but all submitted reviews are factored into our rating. Consumer-Rankings.com believes the posted reviews best reflect the overall opinions of all submitted reviews.
Submitted by Justin
This is the site to use, it should be at the top, I am 22 i have tried almost all of the dating sites and this hits the top, the users are real the messages are real, it takes a little while to be spotted but its worth the time!
Submitted by Greg
I have met, romantically dated and stayed friends with 3 women in the past three years using POF. Both men and women admit that meeting online seems like a necessary evil these days, and POF makes it really easy (and free). The combination of the website and the mobile app keeps the communication going when you're meeting and getting to know someone.
Submitted by Andreapa66
I love POF but wish you could also chat online like you use to be able to...miss this feature...
Submitted by Dee Miles
I think Plenty of Fish is the best dating website I've ever seen. It's method of bringing up several photos while you're retrieving your mail is the best and most efficient way to share pics with the members. I've paid for Match.com, Military Spot.com and one other that I only kept for 30 days. I'm usually very popular because of my appearance and the fact that I'm a slender Marine but never anywhere near the responses that I got on Plenty Of Fish.
Submitted by Rex Goodin
100/good
Submitted by David
The best site out there