Zoosk.com Review
Where Mature Daters Feel Most Welcome
If you are a senior citizen and searching for love or companionship, try joining Zoosk. This online dating site is designed to help single seniors that are looking for online chat buddies, dates or companionship. Users are greeted with a bright blue and white color scheme on their homepage along with screenshots of Zoosk daters. Instead of searching at typical senior hangouts and ending up frustrated at your dating options, enlist Zoosk to help you. They will pair you up with users that you are most likely to have a special connection with. If you have tried searching on your own without success, Zoosk may be the perfect choice for you.
How It Works
To join this active community of senior daters on Zoosk, you will need to construct a dating profile. Zoosk will ask questions about your location, body type, height, education level, religion and ethnicity. Since many older singles probably haven't had too much experience using online platforms, Zoosk has a great tutorial on how to search through profiles and shows you exactly how to do it. You will also be given an opportunity to write a description of your ideal match along with your idea of the perfect first date. This is when being a bit older comes in handy, as you'll probably have a stronger idea of what you like and dislike in a potential mate. Lastly, it's important to add a photo to your profile so others can see the real you, making sure it's recent and accurately displays your features.

When you have finished completing your profile, you can search for your ideal match. You can do a basic search by choosing general filters for age range, height and location. This is important, as you'd want to ensure you're searching within your target age range as a senior, probably age 50+. You can also do an advanced search and select specific traits like ethnicity, body type, personal habits, religion or marital status.
Once you find someone that you like, you can add them to your Zoosk Favorites list and virtually flirt by sending a wink. You can also view the virtual gifts that user has received. If you want to send a personal message or a virtual gift like a champagne bottle, box of chocolates or bouquet of red roses, you will need a subscription. Many seniors prefer this option, as a virtual gift sends more of a mature signal than a wink.
You can also search for a special someone using the Carousel feature, which is a type of matching game. You will be shown many senior singles that match your search criteria, and will be forced to select "no", "maybe" and "yes" to each individual. As you play this game, you earn Zoosk coins. With these coins, you will be able to purchase goodies like virtual gifts or profile boosts so your profile is at the top of searches. . If you miss the fun that dating in your 20's offers you, the Carousel feature could be just what you're looking for.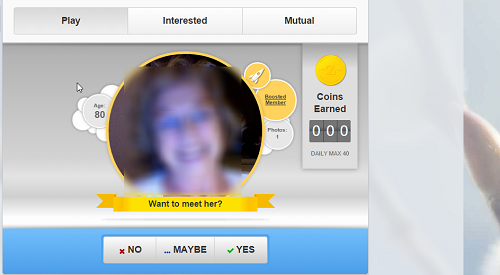 Another way to find a match is through the SmartPick feature. This technology chooses matches for you based on your activities on the site. The Dating Insights feature is a behavioral matchmaking engine that learns more about your personal dating style and predicts which members you are most likely to click with. The more you use Zoosk, the more insights about you this matchmaking engine learns, thus improving the accuracy of your matches.
Browse Singles in Three Ways Using Zoosk
1. Profile Carousel
View Zoosk singles by photos and age one-at-a-time, based on who Zoosk's SmartPick™ Behavioral Matchmaking engine thinks you'll be mutually attracted to. It learns as you click to show more relevant results.
2. Search
Enter your criteria for a date and search. Zoosk shows you results that fit as many of your criteria as possible, while adjusting based on suggestions from the SmartPick™ Behavioral Matchmaking engine.
3. Zoosk SmartPick™ Matchmaking Service
SmartPick™ shows you one profile every 24 hours, based solely off of what we know about you and your preferences from the clicks you've made, messages you've sent, and more. Simply click "Like" and if the other person likes you too, we'll make the introduction.
Safety
Safety is a top priority at Zoosk. A human being verifies every Zoosk profile before it becomes visible, and they use proprietary technological solutions to verify that people are who they say they are. Zoosk provides private, invisible browsing to all members and guarantees never to disclose any of your personal information to a third party.
Zoosk Membership Prices
Browse singles on Zoosk for free, and even send messages. Once you've been introduced to someone you like, you can upgrade to a paying membership. Subscriptions unlock access to messaging, winking, chatting, the ability to find out who viewed your Dating Profile, and SmartPick™ features. Start at $29.95 per month for one month, or $19.95 per month for three months; the cost of Zoosk decreases as you purchase a longer subscription. You may also purchase virtual currency to boost your profile's visibility, send gifts to members, and use upgraded messaging features.
| | | | |
| --- | --- | --- | --- |
| | Cost | Cost Per Month | Savings |
| Free Basic Membership | FREE | FREE | |
| 1 month membership | $29.95 | $29.95 | 0% |
| 3 month membership | $59.85 | $19.95 | 33% |
| 6 month membership | $74.95 | $12.49 | 58% |
Success Stories
Zoosk highlights many happy couples who've met using the service on the Zoosk Facebook page. The company's mission is all about empowering people to lead a more fulfilling love life, so they take your success on Zoosk seriously.
The Bottom Line
Our Zoosk review found that this dating site offers a more personalized experience in dating, using smart technology to pair you with people you're likely to click with. Lots of couples have met, fallen in love, dated, gotten married and/or started a family using Zoosk.
The Good
Zoosk will teach you how to search through profiles, which is helpful for seniors who are new to online dating.
The ability to send virtual gifts, which is a quick and mature way to let someone know you are interested.
The Bad
It takes a few days for Zoosk to find SmartPick matches for you.
The Ugly
None
User Reviews
Not all submitted reviews are posted but all submitted reviews are factored into our rating. Consumer-Rankings.com believes the posted reviews best reflect the overall opinions of all submitted reviews.
Submitted by Eric Roberts
Awesome
Submitted by Susan
I met an amazing guy in a week and a half!
Submitted by Rita
I joined Zoosk on a whim and ended up meeting the man of my dreams. He was geographically undesirable (he found me), but we clicked on all cylinders (email / phone) and pursued the connection. We are now living together and planning our future together. Needless to say, I am still shocked, but oh, so happy and content. Thank you Zoosk!!!
Submitted by shannon
i really like zoosk. there are some things that are limited on the site but i am able to put in my profile what kind of man im looking for: personality, bodytype, height. smoking yes or no. drinking yes or no. i get constant views, many times you can tell which guys are more interested than others based on this only. in my case, i was limited in my finances and couldnt purchase a subscription for a few weeks. i could still see who had viewed me. another thing that i like about zoosk is they have an "insights" area where you can see where theyve compiled all the info of who you like("view")and who likes you("viewed"). who youre attracted to and whos attracted to you. theres also a compatibility rating at the bottom of some profiles. this is the site in subscribing to.
Submitted by Susan Harris
I am in my 60's and female and they really have the best single men out of all the sites...I have tried.
Submitted by Sharon Pierce Capp
I was on this site about two years ago. In February of 2013 I met someone. We were engaged after three weeks and happily married in a church wedding in July of 2013. We just recently celebrated our first anniversary. I might also mention that we are 69 and 71 years old. I have been on many dating sites off an on over a 6 year period and consider Zoosk the very best one.
Submitted by Jim Boggs
Great site!
Submitted by Jane Byers
It is a fun site. The chat request can get overwhelming visually. I did get one date with a nice man.
Submitted by Megan L
Really fun to use. It's like facebook for dating.
Submitted by Megan O
Really fun site. I would recommend Zoosk to my friends.