If you're a woman, you probably believe that the way you spend Valentine's Day with your partner says a lot about where your relationship is headed.  And if you're a man, you're aware that your Valentine's Day date will be the most over-scrutinized date of the year, so it's imperative that it's not just a good one, but a great one.  Here are some date ideas for Valentine's Day- or for any day that you want to make a really good impression.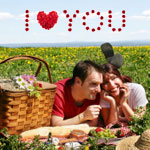 Adventurous Date Ideas:
– Hot-air ballooning.
– Mountain climbing (even if the nearest mountain is a few hours away, you can enjoy the private car ride together).
– Hiking.
– Sky diving (for a specifically intimate experience, jump together in a single parachute).
– Skiing or water-skiing (depending on where you live and the weather in your area in February).
Romantic Date Ideas:
– Create a treasure hunt in which your girlfriend will amass various trinkets such as a teddy bear, jewelry or flowers, and end at a fancy restaurant.
– Re-enact your first date.
– Moonlight walk along the beach (which, incidentally, is still romantic even in cold climates, as long as it's not too cold outside).
– Home-cooked picnic (if it's too cold outside, consider setting up a blanket on your living room floor, and heating up the fireplace).
-Limo ride around the city (with drinks, of course, since you won't be driving).
Cute date ideas:
– Volunteer together (few things are more romantic than showing your compassionate side.  Let your partner see that you can be giving to others, not just to him).
– Apple picking.
– Drive-in movie.
– Karaoke (in which you each pick a song to represent your relationship).
– Plan a cheesy Valentine's Day date with flowers, chocolate and a fancy dinner (it may be over-done, but most women agree that it's still adorable!).