Blackbox Republic launched a brand new private dating site for people of all orientations and lifestyles. The site combines features of social networks with the personal elements of a standard dating site and creates a place where people can share their unedited personal life and later meet up in person.
Blackbox Republic is a totally private, invitation only network. Anyone can join, but you must be vouched for by an existing member to gain wider access to the community. Content can be published to all members, or sent only to specific groups of friends. You can also post more public content to existing social networks like Twitter and Facebook from within the application.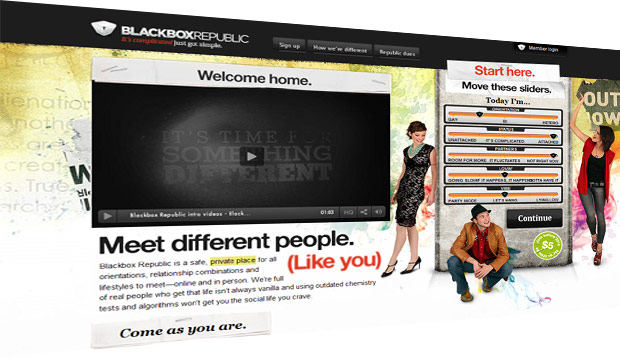 To start you up, you need to use the sliders at the homepage, and tell the system what kind of partner are you looking for, what's your status and what vibe are you in. The site is well designed and fun to navigate through.
"People are used to sharing their lives online but have a problem knowing where to put the more private and personal things they want to share," said Sam Lawrence, CEO and co-founder. "The only choices before now were advertising-focused public spotlights like Facebook, or online personals sites built around chemistry tests and splintered by race, sexual orientation or religion. We are aiming for something radically different."