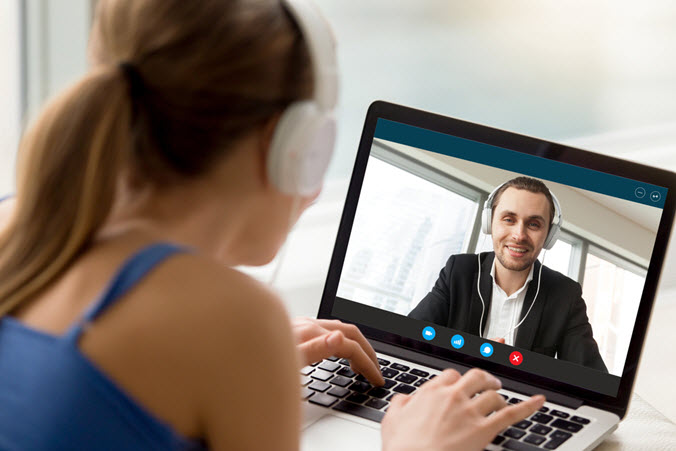 Sometimes it feels like life and love are two things that are mutually exclusive. Just when you feel like you've met someone amazing, a pesky little thing called "geography" gets in the way. While the warmer months are typically associated with summer flings and blooming romance, it's also a time when many couples are forced to date long-distance thanks to the end of college, the start of summer internships and family vacations. While it might feel like geography is stretching your connection to the limit, dating long distance can actually bring you closer as a couple. The trick is keeping the lines of communication open and having realistic expectations.
Top Life Coach, Carole Ann Rice knows how important it is to negotiate and be honest when it comes to love. I spoke to her to get a few of her expert tips for dealing with a long-distance relationship.
Take advantage of technology.
While the idea of a long-distance relationship (LDR) may seem daunting at first, technology has made it easier than ever before. "With services such as Skype, Facebook, and Whatsapp, the distance between you can seem much smaller if you keep communicating," says Rice. While texting is great, it's easy for things to get lost in translation. Use this as an opportunity to schedule regular phone catch-ups and/or video chats with the person you're dating (something Rice calls "love slots"). While you may find that texting works better for you all around, there's something to be said about seeing someone's face or hearing their voice that you just don't get from written communication.
Communicate openly.
"An ocean could separate you, but distance doesn't destroy relationships, doubts do," says Rice. It's natural to feel a bit nervous or insecure when you're separated from the person you're dating — especially if it's a new relationship. That's why communication is key here. Instead of allowing things to build up over time, address issues and fears openly and head on. Let them know how you're feeling — even if this is just saying, "I miss you!"
Bring them into your day.
"Send pictures as you carry out your day (even that cute dog you saw in the park) to let your partner know you're thinking of them," suggests Rice. Sending a cute photo and/or a funny gif is a great way to lift their spirits and let them know you're on their mind.
Keep doing your own thing and allow them to do the same.
While communication is important, it doesn't need to be constant. Give the person you're dating some breathing room. I know what you're probably thinking, "breathing room? But we're already X miles apart!" True. But it's key that you allow each other the space to live your own lives. You're not entitled to know exactly what the other person is doing every moment of the day (and vice versa). "Know when communication becomes excessive and more like a CCTV feed than honest conversation. Don't spam, instead, dedicate a slot each day to catch-up with them," says Rice.
Make a plan to meet.
"As much as technology decompresses space, meeting each-other is integral. Schedule in a weekend to visit them, or vice versa, or meet half-way to explore somewhere new together," says Rice. As she reminds us, "compromise is key, especially when travel costs can add up over time."
If you're only doing long-distance for a limited time period and meeting up isn't going to be a reality, plan a special date for when you're going to be back in the same city again. Having something fun to look forward together is a great way to keep the connection going while you're apart.
Have realistic expectations.
Being in an LDR can be hard, which is why it's important that you have realistic expectations. "Before you're separated by space, set out expectations of each other," suggests Rice. How much time can the other dedicate to the relationship? Is work or travel going to occupy most of your time? Figure out what's realistic and works for both of you, and go from there.