Food lovers rejoice! Jamie Oliver, the amazingly cute and talented super chef, is going to launch a very interesting dating site, for those seeking love and loving food at the same time.
The site is in colabaration with match.com, a well known dating site. All you need to do is sign up to JamieOliver.com/dating and you'll be able to contact any of the 6.5 million people on Match.com.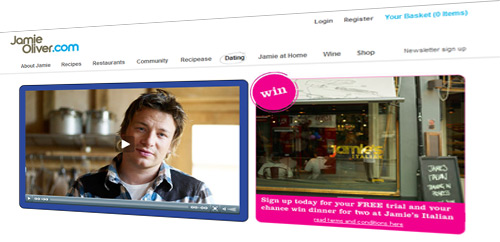 Oliver's site also offers romantice recipes ideas and tips on making the first meal for your partner. Some of the recipes in this new dating site include Oysters with Chilli, Crostini and Lemon, Lime and Peppermint sorbet.
Match.com recently published a survey that pointed out that 45% of members wanted a good cook when looking for a new partner. So – brush up on those cooking skills!
"I've always found food to be a really powerful way of bringing people together and I thought it would be great if we could get people who loved food, to love each other", said Oliver and added, "My site and match.com both have great communities on them and hopefully, by partnering up, we'll be able to bring single food lovers together and make some love matches – or maybe even a marriage – happen."