iBackup Review
iBackup focuses on integrating backup, syncing and file sharing and creating a service that offers a balance between all of these functions. Before the company morphed itself into an online backup service, they did software consulting for Fortune 500 companies and it shows in the attention they give to the backup and storage needs of businesses and large enterprises.
Features
Because iBackup primarily targets their services for businesses, their features tend to focus on technical abilities rather than media sharing or simplicity of use. They offer slightly different products for various operating systems, the features of which are listed below. Additionally, they can also provide a number of different types of email and server backups.
| | iBackup for Windows | iBackup for Mac | iBackup for iOS/Android | iBackup for Linux |
| --- | --- | --- | --- | --- |
| Multiple Computers | | | | |
| Incremental Backup | | | | |
| File Versioning up to 30 Versions | | | | |
| Interactive Setup Wizards | | | | |
| File Sharing and Collaboration | | | | |
| Bandwidth Regulation | | | | |
| Account Access From Any Web Browser | | | | |
| 30 Day Recovery of Deleted Files | | | | |
| Drive Syncing Between Computer and Online Account | | | | |
| Data Compression for Quick Backups | | | | |
| Automatic Backup of Selected Data | | | | |
| Drag-n-Drop Files for Backup and Restore | | | | |
| Automatic Power Off Option After Scheduled Backup | | | | |
| Photo and Video Backup | | | | |
| Permission-Based File Sharing | | | | |
| File Shortcuts | | | | |
| Scriptable and Customizable | | | | |
Pricing
It is important to note that if you exceed the amount of storage in your payment package, iBackup will charge $2 per month per additional GB of storage used. This means that you do not have to give yourself as much leeway in choosing your payment plan or upgrade immediately if you expect to exceed the amount of storage periodically. However, if you plan to do so regularly it may be more cost effective to choose a larger plan.
| | 10GB | 20GB | 50GB | 100GB | 200GB | 300GB |
| --- | --- | --- | --- | --- | --- | --- |
| Monthly Rate | $9.95 | $19.95 | $49.95 | $99.95 | $199.95 | $299.95 |
| Yearly Rate | $99.50 | $199.50 | $499.50 | $999.50 | $1999.50 | $2999.50 |
The free trial includes 50GB of storage for 15 days but it also requires you to provide your credit card number, so if you want to try out iBackup but choose not to continue using it, make sure to cancel your account.
Storage Space
iBackup offers anywhere from 10GB to 300GB in their paid plans but it should be noted that they periodically do have promo offers that include much more at the same prices. Uniquely, they charge a $2 fee for every GB you go over your plan in a month, rather than simply block your account or forcing you to upgrade. Of course, depending on how regularly this happens and how far over you've gone, it may just be worth upgrading anyway.
Ease of Use
Considering all of the features it offers, iBackup has fairly straightforward navigation. All of the information you need before you begin is readily available and laid out in a well organized fashion. Set up is equally simple. Although you are asked to provide more information at the beginning than most backup providers require, the initial download itself is surprisingly quick.
Nevertheless, it's important to remember that the interface is designed with business users in mind. Although there is a lot of information provided, it addresses a more tech-savvy user than most other online backup providers expect and may be confusing. This can make navigation a little bumpy for the average household user. The plethora of tech tools can be either an advantage or disadvantage in this case.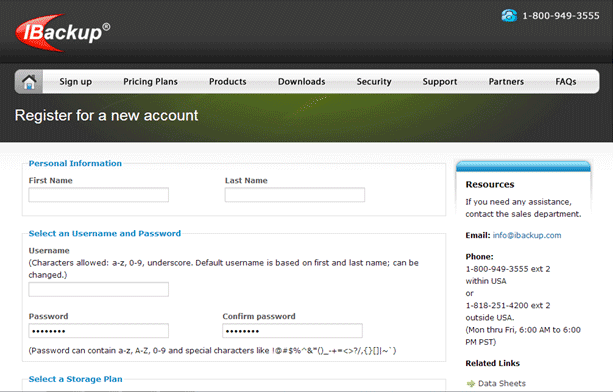 Security
All data stored by iBackup is kept in multiple secure data centers that are monitored 24/7 and use all of the usual temperature control, fire detection and video surveillance. All data transfers are encrypted using 256bit AES encryption. One thing that makes iBackup's security efforts unique is that they allow users to opt for a private encryption key.
Customer Support
Although iBackup's very thorough FAQ section does not have a search function, it is well organized and so it's not too difficult to find the information you need. Nonetheless, you may be prefer to contact iBackup representatives directly. This is made very easy, since they offer email, live chat and phone support. Telephone support is available for twelve hours every weekday and email and live chat are available 24/7.
Another interesting feature is that the email support request form asks for your phone number, explaining that technical support may contact you by phone if they can't answer your question by email. We emailed them early in the morning on a weekday and immediately received a confirmation email. We then received an email with a straightforward answer within ten minutes.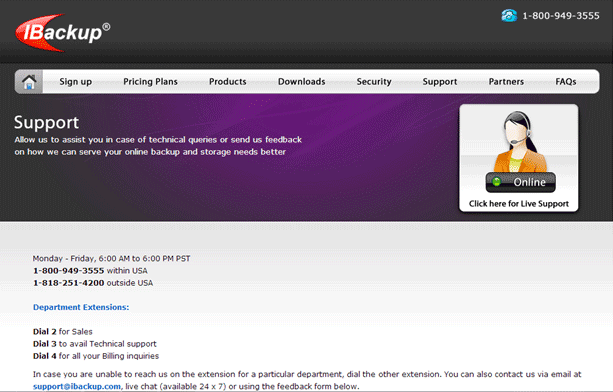 Summary
Positive Features
A lot of technical information available for business users
Ability to go over allotment of storage space without being blocked
Good personal customer suppport
Negative Features
Limited features for private users
Free trial requires credit card information
Low amounts of storage space available, except during promo offers