SugarSync Review
Although it only was founded as an online backup and syncing program in 2009, SugarSync has already gotten a lot of attention and was even named the best syncing service by Gizmodo in 2011. SugarSync seeks to combine all of the security of an automatic backup service, with as many convenient file sharing features as possible. Unlike most online backup providers, for whom syncing is a minor feature, SugarSync recognizes that as mobile computing and users with multiple devices become more common, syncing is going to be one of the most central elements to backup and file sharing services.
Features
SugarSync's features list leans heavily towards syncing features and combines them nicely with other more common tools from providers who focus on backup and file sharing. You get the same features no matter what size account you choose.
Automatic syncing across devices
Syncing shared files on other users' computers
Continuous automatic backup
File versioning
Mobile Apps for Apple products, Android, Blackberry, Windows, Symbian
Allow or lock editing on shared files
Publish photos to facebook or share albums online
Music streaming
Email video sharing
Access and share from any browser
Remote file editing
Link generation to any file
Pricing
Please note that in addition to the 5GB that is included with a free trial, you can get extra storage for free if you complete certain setup tasks or share the program with friends. However, this is still fairly limited so you may want to consider a paid account for more storage. The amount of storage space and the amount of sync space are the same in any SugarSync account.
| Payment Term | 30GB | 60GB | 100GB | 250GB |
| --- | --- | --- | --- | --- |
| 1 Month | $4.99 | $9.99 | $14.99 | $24.99 |
| 1 Year | $49.99 | $99.99 | $149.99 | $249.99 |
Storage Space
SugarSync offers anything from 5GB in a free account to 250GB for the largest paid account. What makes SugarSync unique is that the same amount of sync space is included with each account type.
Ease of Use
The SugarSync website is very pleasing to the eye and makes it easy to get started with a very basic, one page sign-up. Even from this original sign-up page, you can add a mobile device from a drop down menu to begin syncing. From there, the download takes only a few minutes and you're automatically prompted to choose what files you'd like to backup, assuming that you don't have enough room to just back up everything.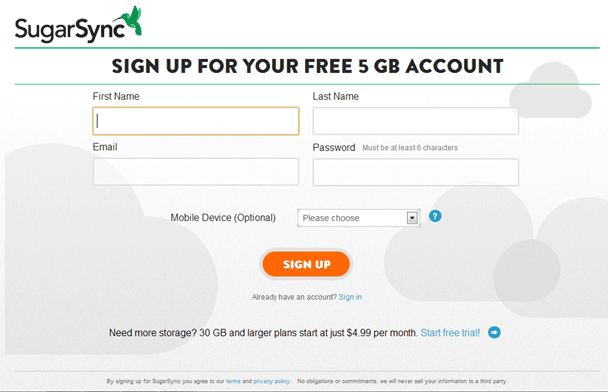 SugarSync creates access to your account and file manager from a desktop shortcut, a icon in the systems tray and of course, from their website. The file manager automatically opens with a few icons for the most common actions you'd want to take. You can bypass these however and get access to a clear and well laid out folder of everything that you've backed up and synced.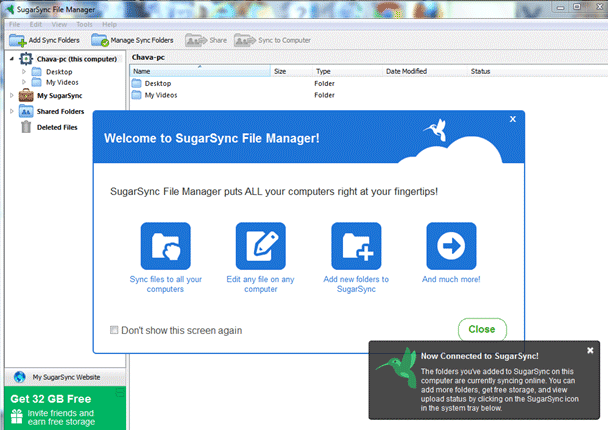 We were surprised to find that the one thing we had difficult y with was adding new devices to sync with. Although we could easily add more files to sync and even remove computers from the list of syncing devices, the only easy time to add new devices was right before the initial download. We eventually realized that in order to add devices we first had to download SugarSync separately on those devices and only then could we sync between the two. This seems counterintuitive because of the original offer to add syncing devices during the initial download. For some reason, once we had the one additional device listed, the tool appeared that allowed us to add more.
Aside from that single but major snag, we found that SugarSync's syncing tools were easy to use and clearly created with syncing as the primary purpose. However the backup tools were less accessible and the features were very limited. This didn't matter very much, since the system backs up automatically whenever the user saves a file.
Security
SugarSync useds TLS (Transport Layer Security) during all file transfers from your computer to the Cloud and to other computers. The files are then stored in data centers encrypted using 128bit AES encryption. Because SugarSync puts a lot of emphasis on file sharing and syncing, they also have a number of additional privacy tools that let you lock up files, or share files while keeping them closed for editing.
Customer Support
We were not always able to find the information we wanted by using the search function in SugarSync's help center but otherwise the page was very helpful and provided a wide variety of options. There are a few good video tutorials which can be very helpful when you're getting started but will not answer all of your questions. Instead, try the user forum which is very up to date and active.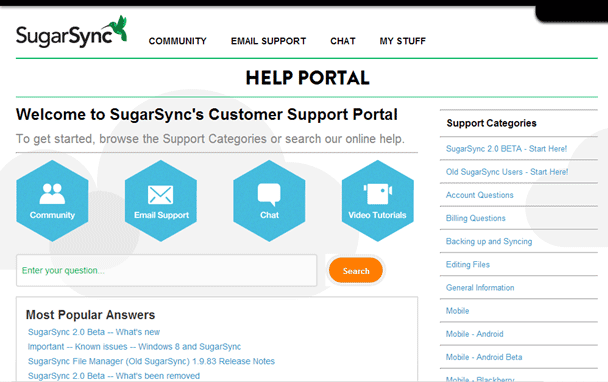 If you'd like to reach someone from the company itself, you have the option to use either email or live chat. Telephone support is also available but only for premium users. The email option has a particularly nice feature that allows you to attach any file, including a screenshot, to your message so that you can be sure the support representatives understand the problem. We sent a message in the middle of a weekday and we immediately received an email confirmation that the message had been sent.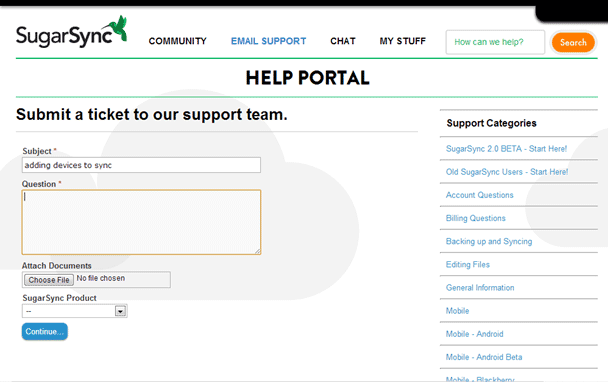 Summary
Positive Features
Straightforward set up
Automatic backup and syncing
Great file sharing options
Negative Features