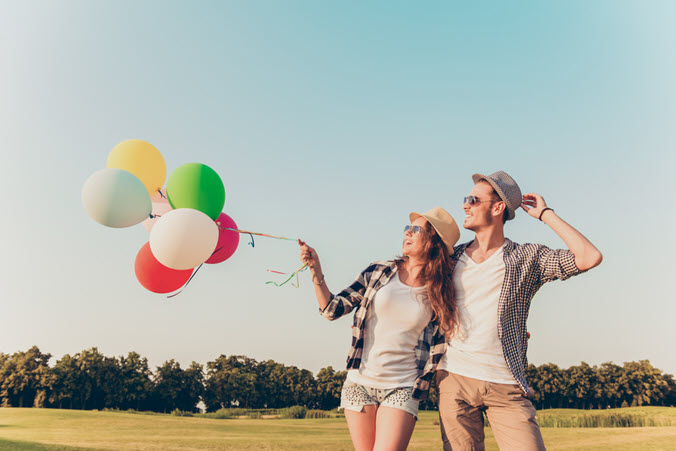 It's almost the long weekend! While Memorial Day is first and foremost a holiday meant to honor the men and women who died serving in the armed forces, for many of us it also symbolizes the start of summer. The weather is warmer and the smell of barbecue is in the air. Why not take advantage of the good vibes and plan a date?
If you're hoping to celebrate Memorial Day with someone cute by your side, here are some fun, easy and affordable date ideas for the long weekend.
Attend a parade together.
Keep in mind that Memorial Day does have a purpose besides celebrating the unofficial start of summer. But that doesn't mean that you have to pay your respects alone. Most towns host a Memorial Day parade, so why not make a date of it? Bring some lawn chairs, snacks and enjoy watching the parade go by. Who knows, it might spark some serious nostalgia for days of past — never a bad thing when you're trying to generate romance.
Pair coffee with art.
Feeling artsy? Skip your usual chain coffee place of choice and find a quirky, independent coffee shop in your local area (bonus points if there's some interesting art on the walls!) For the perfect indoor/outdoor date, grab your coffee to go and spend the afternoon wandering around small local art galleries. If your area doesn't have a thriving art scene, head to a local museum and allow the exhibits to spark conversation.
Enjoy some ice cream on the boardwalk.
Nothing is more summery than enjoying a cone along the boardwalk. No boardwalk in your city? No problem. Get some ice cream together at your favorite stand or truck and go for a laid back stroll through the park. It's simple, summery and sweet (literally).
Plan a picnic in the park.
Outdoor picnic weather is finally upon us! Head to the grocery store to grab provisions (bread, cheese, wine and your favorite salads) and scope out the perfect picnic spot. Spread out the blanket and take in the fresh spring scenery around you. If you're looking for something a bit more private and romantic, why not make it a backyard picnic under the stars? "I find romantic picnics completely unimpressive" – said no one ever.
Take a mini road trip together.
With the long weekend upon us, we have a bit more time on our hands. Why not use this as an opportunity to take a mini road trip together? Go for a long drive. Check out that antique market two towns over that you've always wanted to visit. Head out to the country and go wine tasting at a local vineyard. With a little creativity, the options are limitless.
Make it a beach date.
For many areas of the country, Memorial Day signals the beginning of beach and pool weather. If you're feeling daring, pack a swimsuit and enjoy the water together. You could even take it up a notch and plan some fun water activities.
Pay it forward.
If the warm and fuzzies are what you're after, ditch your usual date plans and donate the money to help a current member of the military. Not only is picking out items for a care package a fun way to get to know your date, it will also make you feel like you made a positive impact on someone else's life — an all-around win/win.
Avoid the rain at a board game cafe.
Not all Memorial Day weekends are hot and sunny. The weather has been pretty unpredictable lately, so it's not unreasonable to make plans for an indoor date. Visiting a board game cafe during an early summer rainstorm is a great way to revisit those cozy afternoons of your childhood while getting to know each other over a couple of rounds of Trivia Pursuit.
Watch a baseball game.
Nothing says "summer night" like an evening at the ballgame. Don't have the cash for a Major League game? Check your area for minor league games with cheaper ticket prices. It doesn't really matter who's playing when you've got refreshments, fun conversation and your date by your side.
Host a backyard BBQ for two.
Who doesn't love barbecue? Take the typical Memorial Day backyard BBQ and turn it into a fun date night for two. Grill your favorites and enjoy an outdoor date while in the comfort of your backyard. Finish the night off with some beers or a bottle of wine under the stars.