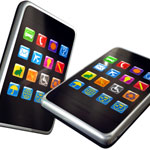 Small business owners scored a large victory recently when Apple announced that it would now allow VOIP service on its 3G network. Strictly speaking, this means that anyone who uses 3G VOIP won't be using their allotted cell phone minutes when making phone calls. Instead, they'll be using their VOIP minutes, which are likely to be unlimited (or, at the very least, to have a higher monthly allotment). The ability to use 3G VOIP can be helpful for any small business who use a lot of monthly cell phone minutes – especially those who already carry a 3G mobile device. It may also make it possible for small business owners to spend money on an iPhone because they will know that they will be able to use 3G VOIP service which will enable them to choose a less-expensive monthly plan.
The downsides of 3G VOIP systems are multiple, but are likely to subside in the coming months as 3G VOIP becomes increasingly popular. Firstly, most 3G VOIP systems allow users to speak only with others who have chosen the same 3G VOIP service. Users of Skype 3G, for example, can only speak to other Skype users. The same holds true for fring. Still, as more and more mobile users begin to use VOIP over 3G, it will likely be that many people have a growing number of friends on their 3g VOIP network. And, because many of these services are free, users can choose the service that most of their friends are registered for, and change if necessary.
Another disadvantage of 3G VOIP is the complexity of the setup, which is not nearly as straightforward as setting up a VOIP system in your home or office. Still, this should not discourage people from making use of this money-saving technology. There are many online tutorials that clearly explain the setup process, and many creative teenagers looking to make a quick buck that will be happy to help you out.
There's no question that if you're looking to reduce your monthly cell phone bill or to use your cellular phone more for business-related purposes, using VOIP over 3G can be a worthwhile solution to consider. If you're not in a rush, you may want to wait a few months to see how the technology develops and advances before investing the time in the installation. But if you are eager to get started, you can easily find some great options that will enhance your business productivity without harming your budget.