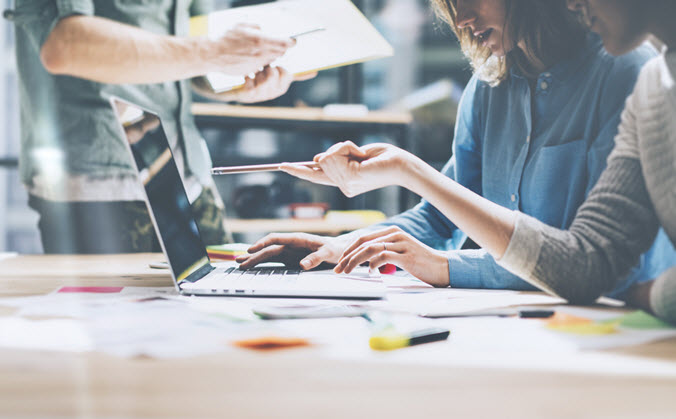 It's 2018 and you're looking forward to another 365 days of doing business with your esteemed clients and customers. But, as any good business leader or owner would do, you should also be looking into new ways of implementing the technology that will allow you to enhance your business' performance.
And with that thought in mind, we present you with the 4 technologies trends you need to be looking into right now if you want your business to stay prosperous well into the new year.
1. The Internet of things
If you don't know about the Internet of Things (IoT), it's time you found out. The concept behind IoT is to eventually be able to control every gadget in our lives remotely. As long as it can connect to the internet, there is always the possibility of being able to control it over a network.
Imagine being able to connect to devices like the switch on an electric pump or the pressure/temperature gauge on a hydraulic press – from your wearable gadget! In your business environment this offers you the opportunity, for example, to:
Turn on/off your office gadgets and devices from the comforts of your home
Monitor their performance while you're away from the office
Respond to failures or over-performance issues by remotely acting on the feedback you get from the connected devices
The world is increasingly getting wired and you need to look into the future right now. As every electronic device gets smarter, you'll be able to control them from afar and that is a concept that will really enhance the power you'll have over your business.
2. Mobility
As we move into the future, more and more people will want or need to work remotely. This means your business will need to be able to handle the input (and output) of traffic that comes from mobile devices. You will also need to structure your user interfaces (UIs) according to the demands of the varied mobile devices your workers – and even consumers – will have.
You can start by looking into mobile trends the world is adopting. Start planning for a world where your employees can hold a conference call with you from three different cities located on as many continents.
3. User experience (UX)
Your clients and customers' browsing experience matters. You need to make sure their user experience (UX), as a whole, is as pleasant as possible. And how do you do that? Let's have a look at a few examples.
Your hosting provider should be able to keep your website online 99 percent (or higher) of the time. A website that is often down will kill your clients' purchasing mood.
Once your visitors are on your page, they will need to know what to do and where to go to do it. Easy navigability around your website will create a pleasant UX.
After your clients are done using your website, they'll want you to deliver the end-result. It could be information, an online service or a transaction – the final result should make them happy.
Being online means delivering a product or service that works efficiently – 100 percent of the time.
4. Security and threat prevention
Security seems like an obvious trend. After all, you need to keep your business, and especially your clients, safe from hacking. As time goes by, hackers have continued to improve their skills and stay one step ahead of digital security companies and their products. If you want to stay in business, you will need to keep an eye on the new ways bad folks attack and which good guys have stood up to them and brought them down.
Keeping up with your security software and hardware needs to be a priority – today and well into the future.
Basically, your business needs to keep moving forward. The new year means new technology trends, new threats and new areas for optimization will spring up, and you need to be ready to not only handle them, but really take advantage. Don't get left behind!