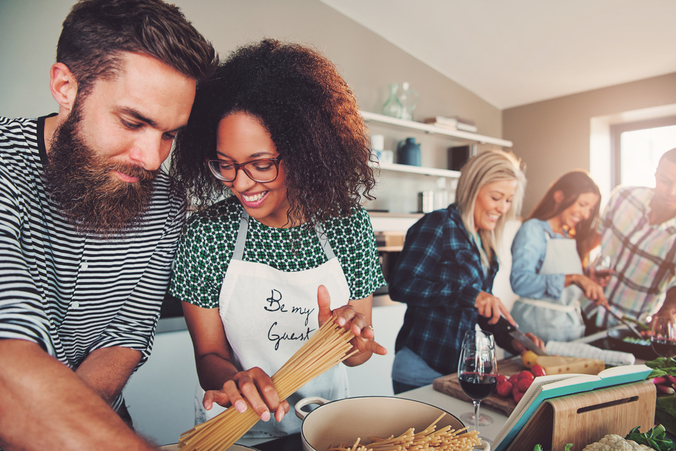 I have a friend who takes all of his dates to the same wine bar that's around the corner from his house. While I don't fault him –the wine bar is great and there's definitely something to be said about consistency — if you're not careful, your date night regime can easily get stale. Whether your modus operandi is Netflix & Chill or drinks at the same local bar, Fall is the perfect time to mix things up — even just a little bit.
Here are a few ridiculously easy tweaks you can make that will take your usual date night ideas from "meh" to awesome.
Swap Netflix for some live theatre.
No, I'm not suggesting you remortgage your condo so you can splurge on Hamilton tickets (unless, you know, you want to), but if you and your date are the kind who love to catch a good movie or cuddle up with a series, why not switch things up and catch a local theatre production or improv show? Even if it's terrible, it gives you something hilarious to talk about over drinks after the show.
Swap your usual bar date for a tasting.
If you always meet your dates at a bar, try switching it up and invite them to join you at a beer, wine or cider tasting instead. Depending on where you live, Fall is the perfect time to get out and visit a local brewery, cidery, winery or distillery. Most of these places offer tastings for a nominal fee that's much less than your usual trendy craft beer and cocktail spot. Plus, the vibe is usually really cool at these places.
Ditch the multiplex and catch a show at a comedy club.
If your plan was to invite your date to see the latest Kevin Hart movie, why not go to a comedy club and catch some laughs in person instead? Studies have shown that humans find laughter to be sexy. A comedy club provides the opportunity to laugh together over your favorite alcoholic beverages. Plus, you'll have the chance to chat and get to know each other in between acts  — something you likely can't do at your local multiplex without being disrespectful to your fellow movie watchers.
Instead, go to a drive-in movie.
If talking during movies is your thing, a visit to a retro drive-in might be exactly what you're looking for. There's something romantic and nostalgic about catching a flick at an old-school drive-in (plus, you get a bit more privacy to chat and cuddle up than at a regular movie theatre, which is never a bad thing). No drive-in? A lot of towns and cities will offer outdoor movies. Bring a blanket, some snacks and a bottle of wine, and enjoy the cozy vibe.
Sub a homemade meal for a cooking class.
There's a place in my city that offers cooking classes for couples and it's honestly the best thing ever. Instead of splurging on a dinner out, you get a fun hands-on experience and you walk away with some new cooking skills that you can parlay into future dates! That sounds like a win/win to me.