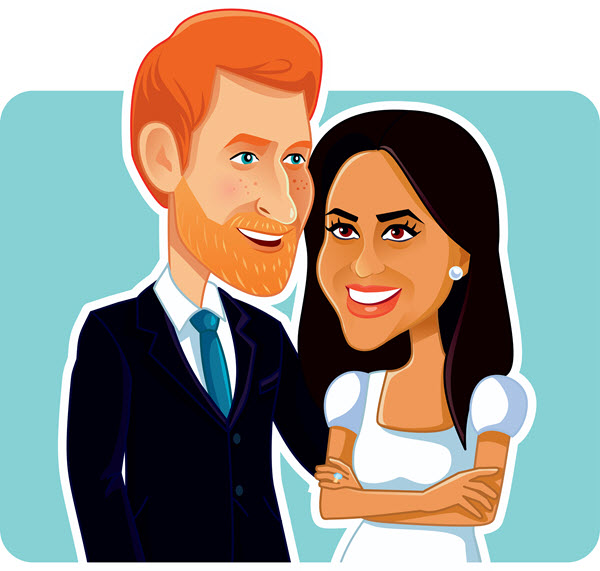 It's official. We're totally and completely obsessed with Meghan Markle and Prince Harry's upcoming nuptials. On Saturday, May 19, at St. George's Chapel, Windsor Castle, the big day will finally be going down and we couldn't be more excited.
However, while we're super curious to see the event unfold (what will Meghan wear?!), all the build up to the big day has given us time to reflect on some of the important things we can learn from California's/Britain's favorite couple.
Don't be afraid to date someone from a different culture and background.
Meghan and Harry couldn't have come from more different backgrounds. Meghan grew up in California. Her mother, Doria Loyce Ragland is a social worker and yoga instructor and lives in View Park–Windsor Hills, California. Her father, Thomas Markle Sr., who lives in Mexico is a Daytime Emmy Award winning retired lighting director. Her parents divorced when she was six and she was raised by her Mom. Prince Harry on the other hand, is the younger son of Charles, Prince of Wales, and Diana, Princess of Wales, and is sixth in the line of succession to the British throne. But, despite these overt differences, this couple makes it work. In a world that's becoming increasingly global, we shouldn't be afraid to cross social and cultural boundaries to find the right person.
Know who you are and own it.
While it can feel tempting to shape yourself to what you think people expect you to be while in the dating world, it's important to stay true to yourself. Meghan doesn't shy away from who she is and neither should you. She never tries to hide the fact that's she's from California and a Hollywood actress (she's been known to blog about the virtues of avocados and yoga). As she has shared in the media, "my dad is Caucasian and my mom is African American. I'm half black and half white. … I have come to embrace [this and] say who I am, to share where I'm from, to voice my pride in being a strong, confident, mixed-race woman." When you're unapologetic about who you are, the right people will find you.
Blind dates work!
When it comes to online dating, all dates are essentially blind dates. Harry and Meghan met while on a blind date set up by mutual friends. They apparently went for drinks at Soho House and hit it off. As Meghan has shared, "so for both of us, it was just a really authentic and organic way to get to know each other." If you overlook the fact that they're royalty and celebrities, they met in a very conventional dating situation and they clicked — proof that you don't need to plan an elaborate fairytale style date for sparks to fly.
Even the best relationships require an investment in time and energy.
Despite their seemingly fairytale like beginnings, the couple didn't just magically get together and live happily ever after. Instead, like any relationship, it's taken time and effort to make things work.  When asked about their relationship, Meghan has been quoted as saying, "when we realized we were going to commit to each other … we knew we had to invest in the time and the energy and whatever it took to make that happen."
The second lesson here: if someone is really into you, they will do what it takes to be with you. No ifs, ands or buts.
When you date someone, you're also dating their network of friends and family.
Whether it's getting to know your boyfriend or girlfriend's college buddies or integrating yourself into a monarchy, getting serious with someone usually means that you have to mesh with other areas of their life. When speaking about their relationship, Harry doesn't shy away from the fact that in getting married, Meghan will also be joining his family. "For me, it's an added member of the family," says Harry. "It's another team player as part of the bigger team, and you know for all of us, what we want to do is to be able to carry out the right engagements, carry out our work, and try and encourage others in the younger generation to be able to see the world in the correct sense."
People are going to have an opinion about your love life. Whether you decide to pay attention is up to you.
For every person who's totally obsessed with Harry and Meghan, there's a cynical naysayer waiting in the wings. Some people think Meghan isn't "princess material." Others think that she's taking on too much, too soon. There's always going to be bigots and haters. At the end of the day, the couple has decided to tune out the noise and just be happy. If your relationship is healthy and fulfilling, who cares what other people think? Just do you.