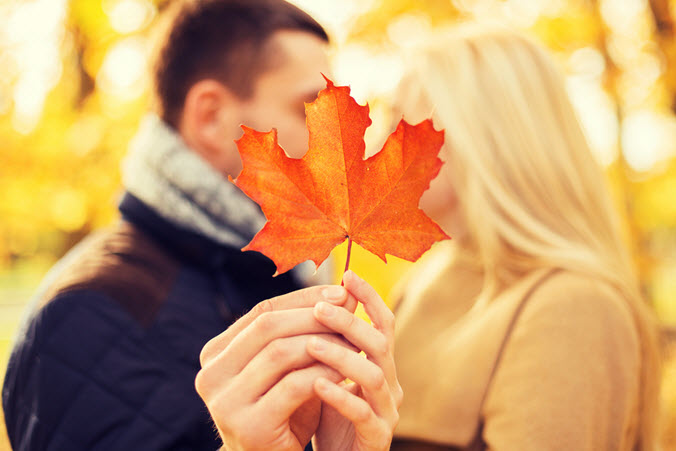 As the leaves start to change and a crisp chill hits the air, it's hard not to open a magazine or go online without stumbling across a plethora of online dating articles with Fall themed date ideas. Spoiler alert: from picking seasonal fruit to Halloween themed outings, the suggestions never really change much from year to year. I used to find this annoying until I realized why this was. These date ideas are popular for a reason: because they're awesome.
Here are a few cliche fall date ideas that you should definitely reconsider.
Going apple picking.
Yes, everyone and their dog is posting their apple picking photos on Instagram lately, but there's something really romantic and wholesome about spending a day outside enjoying one of the most stereotypical fall activities ever. Not only is it a fun daytime date idea, but it's also a great option for people who get fidgety just thinking about sitting across the table from a stranger.
While apple picking, you can get to know the other person while partaking in a shared activity, eliminating the potential for forced awkward eye-contact.
Hit up your local pumpkin patch and get crafty.
Remember how much fun it was going to a pumpkin patch as a kid? Head to your local pumpkin patch and have fun wandering the fields in search of the perfect find. If the shopping experience goes well, head back home to craft a jack-o-lantern together. Similar to apple picking, this is another great daytime date idea. It gets you outside and allows you to bond over a shared activity while giving space for sparks to fly.
Enjoy boozy warm beverages.
Warm, fragrant beverages like apple cider and spiked chai lattes are synonymous with this season for a reason: they're delicious. If you find you're always taking your dates to the same local watering hole or coffee shop, now's the perfect time to branch out. Find a cozy bar or lounge in your city (one with a fireplace is always a bonus!) or make the drinks at home.
Go to a haunted house.
Tis' the season for haunted houses! There's a reason why haunted house dates are always on the top of fall date ideas lists: sharing a few thrills and chills together is a great way to form a connection. If the haunted house is scary enough, it might literally send your date into your arms (never a bad thing!)
Plan a Halloween-themed movie night.
If going to a haunted house isn't in the cards, why not bring the Halloween vibe home with you? Plan a spooky Halloween themed night of Netflix and chill, complete with drinks, snacks and lots of cuddling up.
Grab pumpkin spice lattes together and hit the park to check out the leaves.
I know. Pumpkin spice lattes are the definition of basic, but they're also kind of delicious. Grab some PSL's (or your favorite warm beverage) and go for a stroll through the park to check out the changing leaves.
Enjoy a hayride together.
The fresh chill of autumn air. A sky full of stars. You and your date cozied up under a warm blanket. What's not to like? No matter how you slice it, going on a hayride together is ridiculously romantic. So, what are you waiting for?