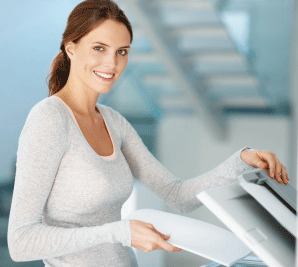 A printer is likely to be one of your first purchases as you set up a home office or small business. Choosing the right one depends on what you expect your printing needs to be. Before deciding, take some time to think about how much you will be printing, what quality and speed you will need, whether you will have multiple users or if you will be printing text, photos, labels or other documents. We've researched the most popular types of printers to help you choose the one that will best serve your purpose.
Inkjet
Best for: Printing images and high-quality photos as well as printing on unusual textured paper or other materials.
Although the lines between inkjets and laser printers have blurred in recent years, inkjets still tend to be better at color printing. These are traditionally found in private homes because they are often less expensive than laser printers and take up less space.
However, it's important to remember that even though the initial cost may be less, the price of ink for these printers can really add up. They are also relatively slow and often have low capacity paper trays, which can make high volume printing very frustrating.
Laser
Best for: Printing clean and professional looking text quickly and in high volumes.
Laser printers are the common choice for businesses and home offices where a lot of printing is done every day. They have higher capacity paper trays and work much faster. When printing in black and white, text appears crisp and clean. Unlike inkjets, laser printers use single toner cartridges and therefore their maintenance is much simpler and cheaper.
On the other hand, the initial cost of a laser printer can be high. Although small, light versions now exist, most laser printers still take up a lot of space. If you plan to print in color using a laser printer then you are likely to have many of the same disadvantages that come with an inkjet printer, such as multiple expensive cartridges, without the advantages of high quality photo printing.
Dot Matrix
Best for: Infrequent printers looking to keep costs low.
The printers described above are both non-impact printers. Dot-matrix printers are impact printers which use wire pins to strike an ink ribbon directly to the paper, similar to a type-writer. The cost of maintenance and ink for these printers is significantly lower than for other types. However, these are becoming less and less common and it will probably become difficult to find ink and replacement parts for them in the near future.
These are the basic technologies that you are likely to come across when choosing a printer. However, there are also a lot of specialized computers such as photo-printers, portable printers or all-in-one machines which combine printers, scanners, copiers and fax machines.  Although there are better and worse printers out there, the most important aspect of your printer choice should be the specific needs of your business or home office.