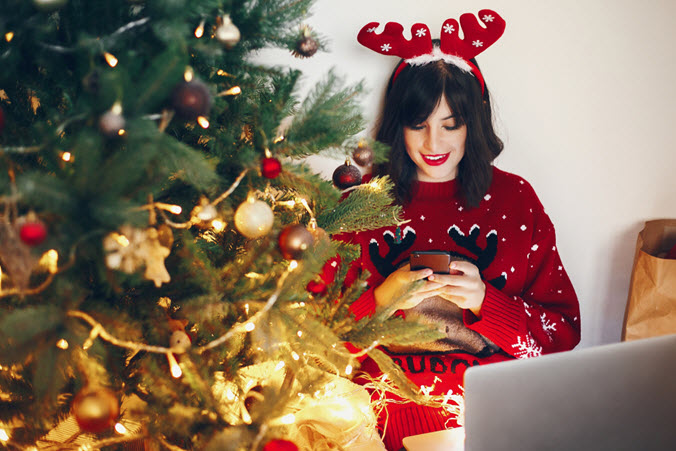 Let me know if this scenario sounds familiar: you've met someone who seems super cool online and the conversation is popping off. You've even transitioned from messaging within the app to texting (#milestone), then before you know it, there's Elves on Shelves everywhere and you've both got a million different social engagements to attend. Yup, the holidays are here in full force. Cue: mass panic. Can this potential budding love connection survive the season of snow, fake white beards and gingerbread everything?
Fear not. Just because it's the most busy (magical?) time of year, doesn't mean that you're dating life has to take a nosedive.
Want to keep the momentum going with someone you've been talking to over the holidays? Here are a few tips.
1. Set a date for after the holiday rush.
One of the easiest ways to keep the conversation going is by making a date so there's something to look forward to after the rush of the holidays is behind you. Plus, with a date planned ahead of time, there's way less chance that this will turn into some kind of glorified penpal relationship.
2. Be patient.
While it's easy to get swept up in the possibility of a new romance, it's important that you set appropriate expectations for this time of year — or as the great Ice Cube would say, 'check yourself before you wreck yourself.' You may be having a mellow holiday season, but the person you're chatting with may be in the midst of a chaotic melee of family and friends with barely a moment to think, let alone chat for long periods of time. If someone doesn't write back to you right away, be patient. Instead of assuming the worst and letting your emotions get the best of you, be patient and give them their space.
3. Show your interest by being responsive.
Sure, you're both busy, but if they're initiating a conversation with you, this definitely shows some level of interest (and vice versa). Respond to their messages as soon as you're able to in order to keep the momentum going. Also, communicate openly. If you know you're going to be tied up for a few days or without your phone (ie. you're going to be holed up in a cabin somewhere), just let the other person know ("Hey, I'm going to be tied up/away for the next few days but look forward to chatting with you as soon as I'm back.") A little bit of communication and consideration goes a long way to developing trust.
4. Send them a funny meme or a cute photo.
If you're both super busy, but you want to let the other person know that you're thinking of them, consider sending them a photo or image — for example, a funny holiday meme or a snapshot of that big batch of mulled wine you just made with a note attached ("Can't wait to share a drink with you soon!") If you're both big animal people, send them a photo of your dog dressed in his special holiday bandana. As they say, a photo says a thousand words and is a great way to show that you're thinking of them in a cute, but casual way.
5. Don't fall in love before you meet.
I know it sounds silly. "I could never fall for someone I haven't met!" But it's so easy to get caught up in the romance of the season (The lights! The mistletoe! The spiked eggnog lattes!) and start to feel things that may not pan out when you meet in person. If you're already picking out your wedding china and you haven't met yet, you might want to reel your feelings in a bit. Hopefully your date will be awesome when it happens. Until then, keep in mind that it's still just a date and all bets are off until you meet in real life.