If you're frustrated with the world of online dating, you may feel alone – but you're not.  Still, as you see your friends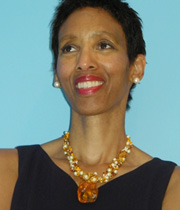 happily wedded while you're still waiting for Wednesday night's blind date, you're probably wondering what it is that's undesirable about you, or why it is that no suitable partners can appreciate your good qualities.  It may make you feel a tiny bit better to know that others are equally perplexed.
Lora-Ellen McKinney, a psychologist, health-policy analyst and writer seems to have it all.  She's talented, educated, employed, healthy and attractive.  Why then, can't she find love online?  In her new play, fully titled "Welcome to the Freak Show: Match.Dot.Bomb", McKinney chronicles her online dating experiences in a way that's poignant, funny and sadly realistic.   McKinney has the uncanny ability to put into words the experiences that most women try to block out or are too flustered to retell.  Perhaps most importantly, McKinney is able to weave her story into a lesson for other women who engage in online dating so that they hopefully won't face the same frustration that she has.
The show is directed by Shanga Parker, an award-winning theater artist and an accomplished director, and can be seen at Hugo House in Seattle on August 16th and on November 12th at the B2 Fine Arts Gallery in Tacoma, WA.  And, while it might make an interesting first date conversation, you may want to consider taking a friend instead of a beau.  After all, you never know if the companion you've met online is one of the men that McKinney parodies.