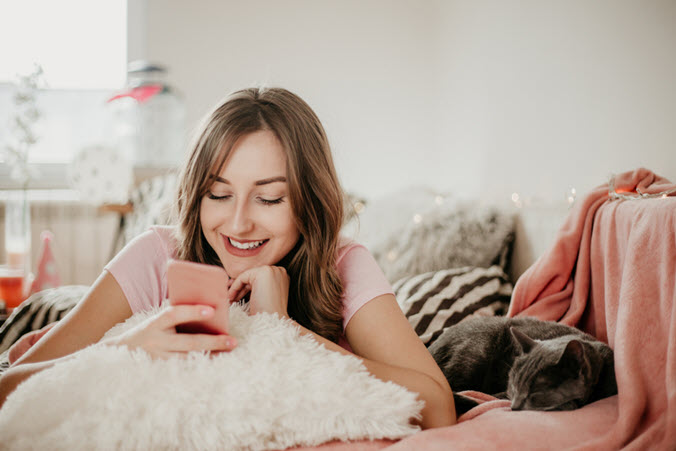 Although online dating has become an incredibly normal part of modern courtship, it's still shrouded in a lot of myths and untruths — for example, the idea that online dating hinders commitment or the common misconception that online daters aren't really looking to meet people IRL. To get to the bottom of things and hopefully bust a few of these modern dating myths in the process, Tinder surveyed its users and found some surprising (and encouraging!) data about online dating.
Want to have more success on apps this summer? Follow these tips:
Ask them out already.
There's a common misconception that people who are online are more interested in virtual relationships than meeting up. While you'll definitely find your fair share of time-wasters online, Tinder found that the average user only waits 2-7 days before meeting their match in person. Whereas, 1 in 5 offline daters waits 1-2 months before asking someone out. Additionally, 63% of online daters go on at least 1-2 dates per week, compared to only 52% of offline daters.
Open your first message with a question or observation.
There's a myth that proper communication died with the birth of the internet, but Tinder found that the opposite is true. Sure, you'll still get your share of online dating messages that say things like, "hi" or "'sup" but online daters are actually way more likely to start a conversation with a question or observation than their offline counterparts. In fact, offline daters are 3x more likely to start a conversation by talking about the weather (ugh, I'm bored already.) So, to keep things interesting make sure you ask matches something about themselves and/or their profile when you initiate contact.
Don't hide your ambitions.
While you may feel the pressure to seem as "chill" as possible online, no good can come from hiding your brains and/or career aspirations. On Tinder, women are 5% more likely than males to rank differences in career aspirations a deal-breaker online. So, shine on you crazy diamond!
Initiate the first date.
Want to stand out from the offline daters? Initiate the first date! Tinder found that when it comes to dragging their feet, offline daters are the main culprits — in fact, 1 in 3 have never initiated the first date.
Don't give up on love.
If you think that online dating apps killed romance, think again. According to the survey, 77% of online daters report having been in love (compared to only 67% of offline daters). Also, online daters are more likely to say "I love you" than their offline peers — only 11% of online daters have never said those four words, compared to 19% of offline daters.
So, if you're looking for love this summer, be yourself, take initiative and hang in there. You might just meet Mr. or Miss Swipe Right.