If you are looking for a fast, efficient, extremely professional web hosting service – you might wanna go with InMotion.
InMotion puts an interesting emphasis on speed, and this is a very important consideration when choosing a hosting service.
While most hosting services utilize a single data center, which means your website and email could be very far from you – and sometimes slow because of that. InMotion allows you to choose your data center location, which makes your site faster and more efficient.
InMotion's Business Class Offers 3 different plans – from a very basic one for small sites (2 databases, 2 domains, 25 sub domains) to a pro plan that offers unlimited domains, FTP accounts, e-mail addresses etc. The prices range from 6.95$ a month to 18.95$ a month – a very reasonable price for the great package you get. All business class web hosting plans come with a 90 Day Money Back Guarantee – so you can try it out before committing.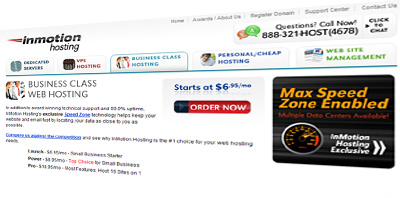 The 30 self installing scripts that are a part of all packages are very useful. There is also a choice of 2 website builders from InMotion – most hosting services offer only one. If you are into commercial sites, InMotion offers a variety of commercial features, including different kinds of shopping carts and payment methods.
Cpanel is InMotion's choice of control panel – which is great. It's easy to use and offers many professional features for advanced user. It's also a common control panel for hosting services, which means a lot of people use it, so there's lots of support and help around.
InMotion has won quite a few awards in the field of customer service. InMotion offers a lot of good tutorials, and a great customer support with live chat option.