Cheap, quick and efficient – that's Just Host web hosting for you.
With an amazing price of only $3.45 a month, it's really hard to compete with this cheap shared hosting service.
Just Host Shared Hosting Package
So, what exactly do you get from JustHost? Here's the deal they offer for $3.45:
Unlimited Space – No need to worry about storage – you have all the room you need for your files.
Unlimited GB's of Transfer – Excellent for popular sites with lots of traffic.
Unlimited Domain Hosting – This means you can build as many sites as you want.
Unlimited E-Mail Accounts – A nice feature – give an email account to all your employees.
Unlimited MySQL Databases – Great for CMS users, like WordPress, Joomla, Drupal etc.
FREE Site Builder – A wonderful feature for beginners.
FREE Domain for Life – Saves you some money and trouble.
Anytime Money Back Guarantee – JustHost are so sure you'll be happy, they offer this guarantee without hesitation.
Just Host Features
Just Host promises 99.9% uptime for your site. Although this isn't an unusual feature, Just Host are so concerned about uptime that they set up their own company to monitor people's uptime for them called Just Uptime. All Just Host's servers are monitored by Just Uptime.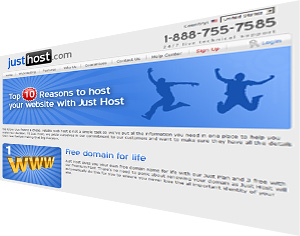 Just Host guarantees reliability through load balancing technology and super fast backbone connections. With load balancing, your site is available from multiple servers, so if one server becomes unavailable, your site will still be online and accessible for your customers.
Just Host uses cPanel, which is an excellent control panel, which makes it simple to manage all aspects of your site. With this control panel, you can upload files, create databases, manage email accounts, create redirections, watch your site stats, manage FTP accounts and much more.
Just Host Customer Support
Customer support is one of the most important aspects of web hosting services. When you choose your hosting service, you need to pay special attention to what they offer in terms of support. Quick response and competent representatives are the most important features of a good customer support.
Just Host will answer your email in 20 minutes or less and they answer the phones after less than 3 minutes – that's what we call a quick service.
Finally, Just Host employs English speaking experts that will be able to solve your problems quickly and efficiently.