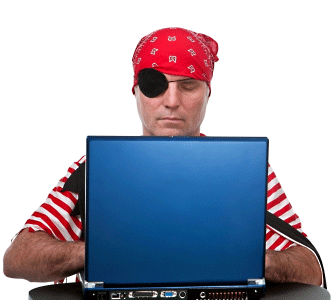 Online piracy has been a popular subject recently, thanks to SOPA and other legislation around the world. But software piracy has its own share of the spotlight, in a David and Goliath legal battle.
Faxproducts.com, a subsidiary of Black Ice Software LLC, claims that Essilior of America, the country's largest optical lens manufacturer bought their Print2Email product to use on-site within the company but gave the license key out to its own customers. BlackIce says that if Essilior had paid them for all of the computers that are using the software, they would have made $13.1 million, rather than the $999 that they actually received.
Essilior has been using the software as part of their Visioffice product, which lets eyeglass customers look into a camera and "try on" glasses and have them fitted. The Print2Email software allows them to send the pictures to friends or family to get second opinions about which frames look best. Users originally were given temporary free trial versions of Print2Email, but when those began to run out, Essilior would remotely log onto the user's Visioffice account and put in the company's license key which was supposed to be for limited use.
This made me wonder: As consumers, should we be on the lookout for this kind of thing? On a day to day basis, internet piracy is a much more common dilemma we face. However, software piracy is an issue for individual consumers as well. According to BlackIce, users may not have known that they were using a license code that had not been paid for. That means they can't be blamed, but perhaps software piracy is something that as consumers we should learn to recognize.
Of course, that comes back to a greater question of consumer responsibility.  How vigilant we're prepared to be and how much we're willing to invest to be ethical consumers is a question we face with every individual purchase we make but unfortunately, there is no right or easy answer.