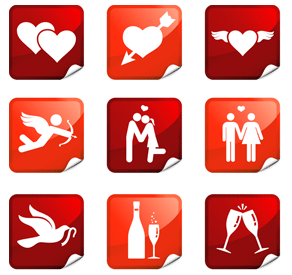 Valentine's Day is fast approaching and while some of us may be floating on air, others are dreading the pressure of buying the perfect gift or watching while everyone else receives one.
I hereby apologize to those consumers out there searching for the perfect gift for the picky significant other in your life: We just can't help you. Try searching the internet and you'll find loads of recommendations and advice about picking the perfect Valentine's Day gift and I don't need to repeat them. Anyway, with the weekend almost here, your shopping time may be running out. Most importantly though, getting the right gift is about showing how well you know your valentine and (as great as our research can be) we just can't do that for you.
Instead, we're giving some tips to the singles out there. The blog on chemistry.com is providing some great ideas for how to pamper yourself on Valentine's Day, because there's no reason you should miss out on the fun!
Just think about the kind of things you would do for someone else on Valentine's Day, and then turn the tables. For example, breakfast in bed is a classic romantic idea but chemistry.com suggests getting yourself a fancy cupcake and having dessert for breakfast. Fresh flowers can brighten up your home no matter who buys them. Try lighting some candles, picking up your favorite book and lounging in a bubble bath. As the blog's author points out, there's a lot more space to stretch out without having to share.  It's also a great opportunity to go on any outings you've been dreaming of, like taking a spa day or signing up for a class which can be done on your own or with a group of friends.
That brings me to another idea. Remember in kindergarten when you made Valentine's cards in school to bring home to your mother? I think it's time to go back to that tradition. Let Valentine's Day be a time to appreciate the special people in our lives, even if there's no romantic attachment. Surprise your best friend with a delivery of balloons, cook a special dinner for your roommates, or regroup with a sibling by trying out a new restaurant together.
Valentine's Day can be special no matter who you spend it with, so don't let the holiday pressure you into anything impulsive. There's plenty of time until Valentine's Day 2013, so spend the year finding new ways to meet people,  choose the best online dating site for you, and be smart about making the most of this Valentine's Day and next year's!