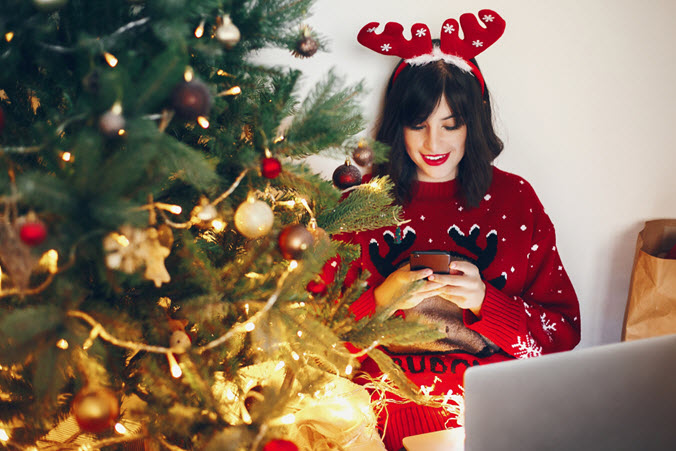 Think online dating slows to a grinding halt during the holidays? Think again. We're actually heading towards what's known in the world of online dating, as "peak season."
According to Match.com, peak dating season starts Dec. 26 and runs through Valentine's Day, with the dating site seeing 50 million messages sent and 1 million dates taking place during this time. (FYI, if you're the kind of person that loves to plan ahead, the busiest day of the year for online dating falls on Sunday, Jan. 7.)
While it may seem counterintuitive to jump into the dating scene during the holiday season, it's actually a great time to be online. Romance is in the air and with the emphasis on family and togetherness this time of year, people tend to be more in a relationship state of mind.
Laurel House is Match's dating expert and author of Screwing the Rules: The No-Games Guide Love. As she told USA Today, "the holidays are a great way to break through the ice by asking real substantive questions, getting to know people on a deeper level and then say 'how was it being single for you during the holidays?'" she said.
If you're looking to date during the holidays, here are a few things to keep in mind.
DO be open to meeting people during this time of year.
As mentioned above, statistically speaking, a lot of people are online and looking for love during the weeks leading up to Christmas and New Years. Also, the holidays tend to bring people out of the woodwork. Whether it's a holiday party, a visit home or simply an increased desire to socialize, there's always the chance that you'll meet someone you may not have crossed paths with otherwise. Stay open to the possibility.
DON'T be demanding when it comes to scheduling dates.
While the holidays are a great time to meet people, it's also an incredibly busy time of year for most folks. Be open to making new connections, but also be mindful that between family, friends and work commitments, most people are going to have a lot on their plate. If your date can't meet up right away or has other things scheduled, don't give them a hard time.
DO keep the momentum alive.
The busyness of the holiday season has a tendency to sweep us away. With that said, dating isn't impossible. If you're both super busy, make time when you can to see each other and make an effort to stay in touch throughout the festivities. Scheduling a quick hot chocolate date and sending a thoughtful text message to let your date know that you're thinking about them can go a long way when it comes to keeping the spark alive.
DON'T let the holidays kill your single person mojo.
You may meet someone during the holidays or you may not. If you're not experiencing a rom-com level of romance this season, don't despair. Instead, focus on what's good about the holidays. Plan a get together with your other single friends to celebrate, dish, and vent (trust me, you're not the only one with nosy relatives that keep inquiring about your single status).
Lastly, while it never hurts to be open to the possibility of meeting someone during the holidays, make sure you center yourself in the experience. This is your time to spend with friends, family or just relax by the fire. Don't forget that.