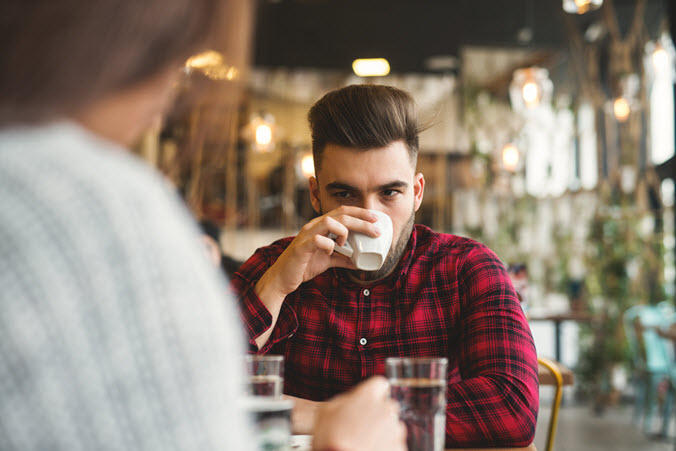 I remember the date like it was yesterday, even though it was six years ago. We'd met online after I'd noticed his profile and sent him a message. He had a look I've since dubbed, "the urban lumberjack." A light beard, a well-worn plaid shirt and a shared interest in the group A Tribe Called Quest. His profile made him seem down to earth and affable. I was in. Did I mention that he was cute?
While I'm not usually a stickler for height — I've dated tall and average height men in equal measure — I prefer to date guys who are at least my height when I wear heels. So, when I noticed his profile said he was 5'8", I was pleased.
The problem with lying to your dates about your physical appearance is that it doesn't take much to let the cat out of the bag. When my date showed up and he could barely see over the counter to order his burrito (he was closer to 5'0" than 5'8") it was obvious that he'd doctored a few facts on his profile. Instead of feeling excited about the date, I felt disappointed.
And yet, people lie to their dates all the time. BodyLogicMD, a Network of Physicians Specializing in Bioidentical Hormone Replacement Therapy (BHRT) surveyed 1,320 single people and found that bending the truth is actually more common than we think.
"For single people on the quest for love, telling the truth to a date can sometimes be easier said than done. The decision not to be honest about one thing or another typically starts as a form of self-protection but can quickly evolve into a destructive tendency," says the surveys authors.
The survey found that the most common thing men and women lie about is their number of sexual partners, which, makes sense. There's a lot of stigma around sex. Perhaps because they were afraid of admitting a number they thought was too high, or because they were ashamed to be seen as "inexperienced," respondents were largely afraid to be honest about their sexual history. Women also preferred to lie about their weight (33%) and living situation (28%), while men were more concerned with being open about their income (37.5% of men said they've lied about how much money they make).
While the survey found that 3 out of 4 people who lied about something to their dates got away with it, honesty is still the best policy. Eventually, lies do float up to the service. For example, if you say you're a Jeff Goldblum on the height chart, but really you're really more of a Danny DeVito type — trust me, your date will notice.
Even if you're able to keep up the ruse ("Why yes, this penthouse apartment does belong to me. I'm not just the guy who waters the plants on Wednesday afternoons,") real, long-lasting relationships are built on honesty and trust. Assuming you're online because you actually want to meet someone, why would you risk trying to build a relationship on a foundation of untruths?
When it comes to attracting the right person, confidence is everything. No one is perfect. Whether your hair situation is more Michael Jordan then Seth Rogan or your income is closer to "cup of noodles" than "Nobu," own the heck out of who you are. You want the person to like you for who you actually are, not who you're pretending to be.