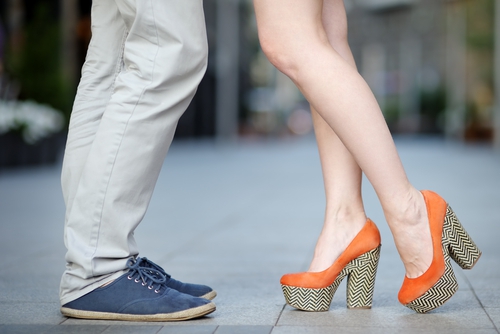 We're very fortunate to be living in a time where regardless of your interests or demographic, there's an online dating website for you. However, trying to figure out where you fit in can be confusing. The first question you need to ask yourself is, "what am I looking for?" Most online dating sites are geared towards certain kinds of dating interactions.
Marriage or relationship oriented dating: If you're hoping to find a relationship that will lead to marriage or a serious commitment, look for a traditional online dating site that's designed for this purpose. eHarmony is a great place to start – after all, one of its bragging rights is that it's responsible for over 600,000 marriages!
Hook-up websites: If you're looking for something that's purely physical, that's totally cool! This is where hook-up websites come in. Instead of wasting everyone's time hanging around on traditional dating sites hoping you'll get lucky, look for an adult oriented hook-up website that's designed for singles looking for a no strings attached, casual encounter. Trust me, there are plenty!
Casual dating: If you're not ready for a serious commitment but you're interested in more than a random hookup, casual dating is for you. Whether you're looking to get out there and meet more people or want a hot date for a party on Saturday night, there are a handful of really awesome online dating websites that can help you find exactly what you're looking for. Casual dating provides you with the flexibility to test the dating waters and connect with lots of people without having to set an end goal of finding "the one" (however, sometimes casual dates do lead to more!)
Here are a few of the best casual dating websites:
1. Plenty of Fish –
As someone who's used Plenty of Fish extensively, I can vouch for the fact that it's a great way to meet tons of singles, quickly. The name says it all: you will meet "plenty of fish." I initially signed up for PoF when I moved to a new city and within 24 hours I was getting ready to go on my first date. Although you can definitely find a serious relationship on Plenty of Fish (my friend met her husband this way!), this site excels at casual dating. Unlike other sites that thrive on lots of bells and whistles, Plenty of Fish likes to keep things for it's users, while still taking advantage of cutting edge, online dating technology. Plenty of Fish is a great option for people who just want to cut to the chase and start "fishing"….err, dating. The profile pages are incredibly easy and straightforward to complete and there are no mandatory questionnaires.
You can search for local singles in the usual ways, however if you're in a hurry, one click will deliver a list of age and location matches or a list of users online in your area. When it comes to providing matches, Plenty of Fish takes a more innovative approach than any other site. Plenty of Fish will serve up potential matches based on your clicks and how you behave on the site, not just by what you say you're interested in. For example, say you're looking for a 40+, professional with an average body type, but you click on hot, ripped 25 year olds – they will take this into account. In other words, PoF forces you to be honest with yourself- something that's often needed when it comes to online dating!
2. Match.com –
Although Match.com is known as being one of the more serious, relationship oriented online dating sites, it also has a lot going for it when it comes to casual dating. I like to think of Match.com as a "one stop shop." Although you want to keep things casual right now, that may change in the future. Match.com provides you with the flexibility to find exactly what you're looking for under one umbrella, so that you don't have to switch dating sites when your needs change. Plus, with one of the largest user bases, Match.com opens you up to a world of possibilities when it comes to meeting other singles.
Not only does Match.com have one of the most advanced search functions out there (you can literally build your perfect match based on interests, looks and keywords), it also has some really cool features that will help make your dating experience fun and efficient. Match's "Like At First Sight" quiz is one of the more helpful online dating site quizzes as the results actually help the site 'learn' your preferences. This detailed picture-game personality quiz helps to define the features, looks, and interests to which you are attracted, so you can concentrate on what's important: making connections and going on dates.
 3. Zoosk –
Liken yourself a social butterfly? With over 40 million users worldwide and a fun, conversation driven interface, you can't go wrong with Zoosk. Similar to Plenty of Fish, Zoosk provides free Behavioral Matchmaking™ which matches you with singles with whom you're likely to discover mutually attraction based on your actual clicks and messages, helping you streamline your casual dating experience.
With cutting edge mobile technology, Zoosk is also a great site for people who want to connect with singles on the go. Casual dating often depends a lot on chemistry and physical attraction, which is why I'm a big fan of their Carousel app, which allows you to check out a gallery of singles in your immediate area and swipe left or right if you like them. If there's a match, you're immediately given the opportunity to connect via a free chat program. Not to mention, Zoosk also connects to Facebook and several email programs, by "finding" people you already know. After all, maybe that hot date is that cute guy or girl you've already met!
Causal dating doesn't have to be hard (or weird) if you're in the right place. Check out one or two of the aforementioned sites and start dating the way you've always envisioned.